Gore @ Bali Conference 2007
Edited by GlassRace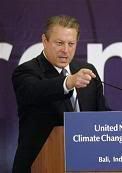 Estimates for how long we have before the ice cap melts are shrinking as fast as the ice cap itself. In an electrifying speech at the 2007 Bali Conference, Al Gore said,
Quote:
I remember years ago listening to the scientists who specialize in the study of ice and snow express concern that some time towards the end of the 21st century we might even face the possibility of losing the entire north polar ice cap. I remember only three years ago when they revised their estimates to say it could happen halfway through the 21st century, by 2050.
I remember at the beginning of this year when I was shocked to hear them say along with others that it could happen in as little as 34 years; and now, this week, they tell us it could
completely disappear in as little as five to seven years. [emphasis added]
Gore concluded on an optimistic note, however -- perhaps revealing that he knows more about the solutions available than what he's able to say publicly?
Quote:
The greatest opportunity inherent in this climate crisis is not only to quickly deploy the new technologies that will facilitate sustainable development, and create the new jobs and to lift standards of living. The greatest opportunity is that in rising to meet the climate crisis, we in our generation will find the moral authority and capacity for long term vision to get our act together in this world and to take on these other crises, not political problems, and solve them.
The "deployment" of "new technologies" means everything we need to save the biosphere already exists, which matches what the Disclosure Project has been saying for the past several years.
Gore concluded:
Quote:
Instead of shaking our heads at the difficulty of this task, and saying "Woe is us. This is impossible. How can we do this? We're so mad at the ones that are making it impossible," we ought to feel a sense of joy that we have work that is worth doing that is so important to the future of all humankind. We ought to feel a sense of exhilaration that we are the people alive at a moment in history when we can make all the difference.

That's who you are. You have everything that you need. We have everything we need, save political will -- but political will is a renewable resource! [applause]
VIDEO AND TRANSCRIPT
LIVING ON EARTH COVERAGE
NPR COVERAGE
9/11 Commentary
If it's this easy for the U.S. political machine to try to block global environmental reform, is murdering 3,000 Americans for the sake of the same, greed-based global agenda really so hard to believe? Especially when we have as little as "five to seven years" before it's all over?