Times across America including animations.
http://shadowandsubstance.com/
As explained in a recent Science@NASA story, red isn't the only color to look for when the Moon glides through Earth's shadow. Observers of several recent lunar eclipses have reported a flash of turquoise. For example, note the upper left corner of the above photo taken by Jens Hackmann during the European lunar eclipse of March 2007.
The source of the turquoise is ozone. Earth's ozone layer absorbs red sunlight while allowing blue rays to pass. This has the effect of turning Earth's shadow turquoise-blue around the edges. Look for it during the first and last minutes of totality (10:01 pm EST and 10:51 pm EST).
* live webcasts: from the Canary Islands; from Norway; from Iran; from Columbus, Georgia; from the Netherlands; from Belgium; from Spain (1); from Spain (2);
* timetables: (pick your time zone) GMT, AST, EST, CST, MST, PST, Alaska, Hawaii
* discussion: chat about the eclipse
* NASA links: worldwide visibility, full story...................................
also on the below site,
SPY-SAT SIGHTINGS: Until USA 193 is shot down, it remains visible to sky watchers who know when to look. Amateur astronomer Dan Bush took this picture of USA-193 on the evening of Feb. 18th as it passed over Albany, Missouri: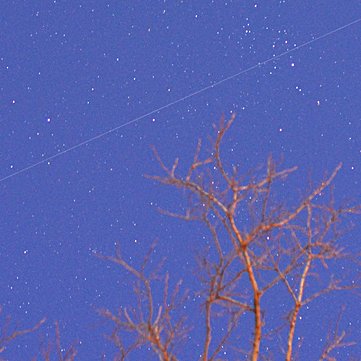 http://www.spaceweather.com/
TuT The Quirky