---
*BREAKING NEWS*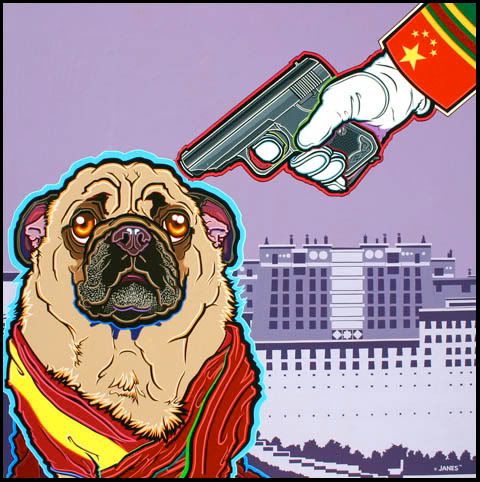 "Tragedy and Hope"
http://poparf.com/bp_FREE_TIBET.html

Nathan Janes has completed his latest work, "Tragedy and Hope," as a response to the genocide of the Tibetan people by the Chinese government. The painting is striking as it pairs the artist's usual muse and pop art style with strong and unsettling imagery. Janes says that he was moved to complete the painting as the crisis in Tibet has continued to exist for several decades with very little response from foreign governments, even in light of the recent Olympic Games held in Beijing. "Many people may have forgotten that Tibetan monks still go missing today and the Tibetan culture is being purposefully destroyed by the practices and policies of China." Janes fears that if citizens of the world are not cognizant of the issue, then the United States and other countries will continue to go silent due to China's role as an major economic player in the world market.

The painting, "Tragedy and Hope," marks the bloody history of Tibet as it culture and people have been eradicated by the Chinese since 1950 but it also marks the artist and other activists' hope that people will continue to cry out until justice is brought to the Tibetan people. Janes says that he "realizes many people accept the world as it is presented to them and continuing struggles such as that of the Tibetan people are not often presented to the American public through mass media outlets." He hopes that through his painting he will spread awareness about the tragic situation in Tibet to those who view his art and encourage people to learn about world events in other ways besides the mass media.

Nathan Janes is becoming increasingly known in the world of art for his pop art stylings addressing national and global social issues while using the family dog as his muse. Listed on the artist's website, http://poparf.com/bp_FREE_TIBET.html, are resources for learning more information about the crisis in Tibet.



###


Biography of Nathan Janes and his modern dog art sent upon request.

Nathan Janes http://www.poparf.com Nathan@poparf.com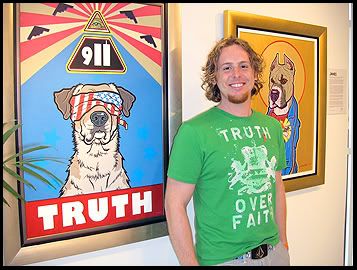 Nathan Janes is becoming increasingly known in the world of art for his pop art stylings addressing national and global social issues while using the family dog as his muse.

Janes strives to combat the popular perception that fine art can only be in certain styles or of certain subjects. According to Janes, "Now more than ever I am striving to push my work so that the family pet is used as an artistic tool to depict deeper questions and messages about our society. Everyone can relate to the family dog but not everyone has a cognizance of the social issues that I depict in my paintings. The dogs depicted in my work serve as a bridge for individuals to journey into topics and questions that they may have never explored before but certainly affect their lives nonetheless."

In addition to his growing collection of activist art, Janes has created a number of designs, which have been used to help support various nonprofit organizations that promote animal welfare. Among these projects, Janes has designed the first official ribbon for animals, the "Orange Ribbon for Animals," which is being distributed by Rational Animal to help support animal shelters nationwide.