Pikadon Project
At the conclusion of the HBO documentary
White Light, Black Rain
they show a live performance by the Pikadon Project, which is one man playing a trumpet through electronic distortion, so that the notes get stretched like they would on a guitar, while another man simultaneously paints bomb blasts on a large canvas with his hands.
Here's a YouTube example, from what looks like maybe the last set of a recent show in Berlin:
YOU TUBE
While you're listening to that, here is a blurb about the Project:
Quote:
"PIKA describes a flash of light and DON describes a huge sound."
The survivors of the nuclear bomb in Hiroshima and Nagasaki started to call the nuclear bomb PIKADON. Pikadon is an onomatopoeia. The Japanese language uses a lot of those onomatopoeic words. "Pika" means flash of light and "don" sound. The word Pikadon means flash of light with a huge sound. But Pikadon does not express any hate, anger, or sadness. Our aim is the symbiosis of light and sound -- like Pikadon.
PIKA x DON= PIKADON
Light x Sound = Beauty
Life X Death = Love
For over 60 years people worked towards the abolition of nuclear weapons, doing and organizing many debates and creating a global peace movement. But nevertheless the logic of the world rulers is still based on nuclear power. How can we reduce this power to zero? After the release of the atomic bombs, the surviving victims called them "Pika-Don'' because they didn't know the word "atomic bomb." . . . Usually you would choose some concept associated to misery, hate, and disgust . . . but we have chosen the word "Pika-Don'' because it works beyond emotions.
Using their artistic intuition, Kuroda and Kondo found out that Pika-Don could be some way of expression beyond good and evil, which could be the basis of life itself. The beginning of our universe called big bang would be called Pika-Don in Japanese; therefore this word and concept [also has] a lot of metaphysical and religious aspects.
By the collaboration of Kuroda and Kondo, sound and light, audio and vision are not anymore separated but sound and resonate together as audio-vision, as Pika-Don. As Kuroda would say, "everything is coming simultaneously.'' Beginning with the live performance in the Saint Elisabeth-Church in Berlin, Kuroda and Kondo would like to set Pika-Don a new basis, which is planned to expand in the next years. But also we would like to Pika-Don with mother earth. Wishing that Pika-Don can become part of the principles of life, nature, and the universe.
-TK
TOSHINORI KONDO
Quote:
Toshinori Kondo is a Japanese electric trumpeter who is highly acclaimed not only in Japan but also in Europe and the United States. He has been playing all over the world with musicians of various nationalities who all have strong personalities.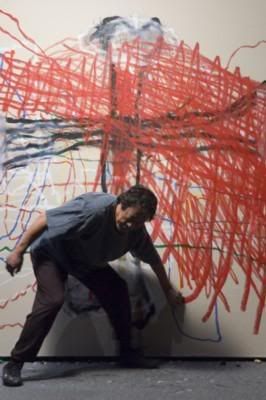 SEITARO KURODA
Quote:
Kuroda Seitaro is probably Japan's most famous illustrator. His drawings appear in scores of Japanese books and magazines. His design work spans the gamut from buildings, stores and interiors to logos, t-shirts, posters, CD covers-just about anything you can print on. Besides making art in a studio setting, Kuroda collaborates with musicians from all over the world in performances he calls "live painting."
Some of the other YouTube clips available feature a much lighter, multi-instrumental modern jazz style, with additional performers. But it was these bleeding trumpet-guitar sounds, running against the bleeding live paint, that really made a statement.