---
Can somebody tell me why everything seems to be going galley-west ALL AT ONCE for the radical right? Not that they don't deserve it in hearts and spades, but there's just too much to keep track of right now! And, of course, it's just in time for Election Day...YIPEE!! Yes, there WILL be a heavy-duty post upcoming on profligate Pastor Ted. (But--doggone it!--I'll NEVER get those notes of mine organized.)

Here's a little something for all you normal people. What I'd REALLY like to know is how these disgusting degenrates live with themselves. THAT'S the $64,000 question! I guess they just don't have any trace of a conscience...

Like Andrew Buhr, a 30-year-old Republican party nominee for the Missouri House in 2000 and former Republican committeeman for Hadley Township, who was indicted on January 22, 2002 by a grand jury for two counts of first degree sodomy with a 13-year-old boy. http://www.thevitalvoice.com/2002/2002_1227/rathmann.html Thirteen years old.

How about Oswego, New York mayor John Gosek? He used a cell phone--paid for by the city!--to "persuade, induce, entice and coerce minors to engage in sexual activity." Supposedly, he paid a woman $250 to arrange a liason for him with not one, but TWO 15-year-old girls! Unfortunately for Gosek, the meeting never happened; authorities were waiting at the Salina motel when he arrived and they promptly slapped the cuffs on him. http://www.syracuse.com/news/updates/index.ssf?mtlogs/syr_poststandard/archives/2005_09.html#023540 Thank goodness for those undercover Internet cops!

Then there's Bobby Stumbo. A former Floyd County, Kentucky Republican leader, this wretched, misbegotten scum-sucker is accused of sexually abusing a five-year-old boy. FIVE YEARS OLD. To me, this is the most despicable act an adult can perform, the deliberate debasement of innocence. This is one sick, twisted individual who needs to be locked up forever where he can't SEE another child ever again in his life. http://www.wkyt.com/Global/story.asp?S=3943230&nav=4CAL

South Dakota Representative Bill Janklow was convicted of vehicular manslaughter in December of 2003. This piece of garbage was speeding when he ran a stop sign, struck and killed a motorcyclist...and then lied to three different officers at the scene about what happened. During his entire political career as GOP Attorney General and South Dakota Governor, Janklow was an atrocious driver and an unapologetic speeder who defied law enforcement officers to cite him. http://www.cnn.com/2003/LAW/12/08/janklow.trial.ap/

And while we're talking about obnoxious drivers of the radical right, we might as well mention Ted E. Schelenski, vice president for finance and operations at the Heritage Foundation, a fairly notorious flying monkey think tank. (They're the rotters who began pushing the privatization of Social Security swindle. Genuine bottom-feeders.) He was involved in a road rage incident in Washington DC; he got out of his car and asaulted a female bicycle rider, shoving her to the ground and then fleeing the scene. He was later arrested. http://www.washingtonpost.com/wp-dyn/content/article/2005/07/01/AR2005070101881.html

Hard rock guitarist and avowed far-right wingnut, Ted Nugent, was served with papers ordering him to pay child support to Karen Gutowski with whom he had brief affair in 1995. Yes, he was married to his wife, Shemane, at the time. Oddly enough, his website claims that he was named "Father of the Year." Yeah, right. I used to like his old Amboy Dukes, too...that doesn't mean he's not filth for refusing to support his own kid! http://music.yahoo.com/read/news/12175637

Republican Representative Bob Livingston was a very vocal critic of Bill Clinton during the impeachment debate...but when he discovered that Larry Flynt of Hustler Magazine was investigating HIS past infidelities for the book The Flynt Report, he confessed to a GOP caucus and resigned as Speaker of the House. Hypocrite.

West Texas District Attorney Rick Roach was elected in 2000 after running a campaign promising he'd be tough on drugs. In January of this year, he was arrested for--you guessed it!--possession of cocaine, marijuana and amphetamines...along with a syringe, TWO digital scales, 30-some handguns, a shotgun and a rifle. Apparently his version of a strict stance on drugs meant that only HE was permitted to consume them and sell them to your children. http://www.chron.com/disp/story.mpl/metropolitan/2991591.html

Here's a question: For a party of rabid homophobes and vociferously anti-gay policies, why are so many of them gay? I've never had any particular problem with homosexuals myself--yuou know, different strokes for different folks and all that. Live and let live. Oh, but not the Republicans!

Some of the full-bore bedbugs like Neal Horsley, believe and espouse the notion that gays ought to be jailed. Or killed outright. Horsley, by the way, is a militant anti-abortion headcase who admitted on nationwide radio that he used to enjoy a spot of sex with the FAMILY MULE. Absolute truth. Look here: http://www.newshounds.us/2005/05/06bizarre_sex_habits_of_the_extreme_rightwing.php and http://www.newshounds.us/2005/05/14/the_mule_consented.php

James Dobson, Jerry Falwell, Pat Robertson and a heaping helping of other supposedly Christian folk can talk to you with a completely straight face about the "homosexual agenda," whatever the blazes THAT means. Apparently, gays are considered a legitimate target for discrimination and ostracism. I've already told you about Jay West, GOP mayor of Spokane, Washington, who was trolling for hot young guys over the Web...and then rewarding his butt-buddies with political favors and appointments

There was also Roy Cohn who, as chief Counsel of the Government Committee of Operations of the Senate deliberately targeted homosexuals. Oh...and he was appointed to the post by scrofulous Senator Joe McCarthy. Cohn used his influence to keep his boyfriend, David Schine, from getting drafted in 1953, during the Korean War. Cohn was disbarred by the state of New York for unethical and unprofessional conduct in 1986 and died very shortly threafter. Of AIDS. Instant Karma's gonna getcha. http://www.rotten.com/library/bio/misc/roy-cohn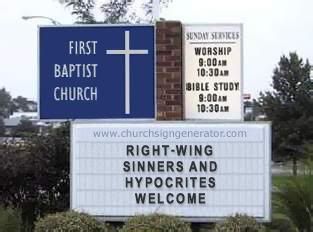 We can't leave out John Paulk, a leader of James Dobson's Focus On The Family. He formed the group Exodus International to "convert' gay people to the straight Christian life, claiming that he was, himself, an ex-gay. Problem was, he got himself photographed INSIDE a Washington, DC gay bar in 2000. He claimed he'd just stopped in to use the restroom, but Focus and the Dobson Pharisees weren't buying. (I'm not, either!) They summarily removed him as chairman of Exodus. [urlhttp://www.gay.com/news/article.html?2003/04/14/3[/url]

Virginia's 2nd District Representative Ed Schrock abruptly announced his retirement in August two years ago, during his reelection campaign. He was accused of engaging in homosexual activity (Fisting? Gerbils? Oh...sorry...) and without even denying the allegations, he took his bat and ball and went home. Guilty as charged, I'd say. http://home.hamptonroads.com/stories/story.cfm?story=74982&ran=126361

Sam Walls was initially favored in runoff elections in Texas last year when photographs surfaced showing him wearing dresses and a wig. He lost...in a landslide. Maybe it was the frilly brassieres that all those coyboys just couldn't handle. http://msnbc.msn.com/id/4739100

That's about all I can stand for the moment. Back soon with more GOPerverts, hardcore hypocrites and Profligate Preachers.

STOP THE PRESSES!!!! Catherine...doesn't TVNL have a fairly extensive database on some of these slime-suckers tucked away somewhere? Seems to me I saw something once upon a time...