Catherine wrote:
Governor Brian Schweitzer of Montana is a man after my own heart. I've watched him for several years, especially during the second term of George W. Bush and thought Schweitzer would make an excellent president. If the Democrats were smart, they'd woo him into being more politically visible. I don't know if he doesn't want that or if the Dems simply think he's too independent for them, but whatever the case, I do want to see more of him....
Brian Schweitzer Seeking Federal Permission For Cheap-Drugs Plan
HELENA, Mont. — The governor of Montana asked Tuesday for federal permission to sell cheaper prescription drugs in his state through the federal Medicaid program, a proposal he expects will catch the eye of other cash-strapped states.

Gov. Brian Schweitzer, who launched his political career a decade ago by taking busloads of seniors to Canada to buy cheap drugs, said the waiver would allow Montana residents to get the drugs at about half the retail price.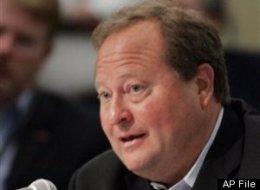 This kinda rings a bell with me...
About 3-4 years ago, (God, what was the name of it) there was a decongestant, that was pulled from the shelves. The reason, was an ingredient (two HUGE long words, that I couldn't even begin to pronounce...one word began with a "p" and the other, with a "t.")
Anyway, it was a very small part of the decongestant. (around 2.5 mg) HOWEVER, since this very small ingredient, was used to make meth, THEY PULLED THE WHOLE "SHEBANG" FROM THE PHARMACY SHELVES. Wal-mart, K-mart, CVS etc. pulled it all. At first, you had to show your driver's license, just in case you swallowed a "shitload" of it, along with the drain opener, used to make this stuff, and decided to drive like a maniac, and ended up killing somebody. Believe me, there was a huge number of people who, just like me, were fed up with "big brother," telling me what the fuck I could take, when I felt like shit.
So what did I first do, shortly before they banned it? I left a message with that useless coward Evan Bayh, here in (S)indiana. He reassured me in a letter written by his staff, that the medicine would not be "outlawed." Well, within a few months...IT WAS!!
I tried the other "candy," posed as medicine. Unfortunately, the stuff used in the real medicine, was no longer in the "candy stuff." Ya see, the ingredient in (ACTIFED!!...I REMEMBERED IT!!) was the "drying agent," that cleared up my sinuses. It worked great too. I took two ACTIFED tablets, and it lasted about 36 hours. It really was good stuff. (and they had generics of this, everywhere you went shopping) I really wish I would of held on to that letter now. It would of been a nice "conversation piece," in your local chat room. (especially if you have a scanner)
Long story short. I got on the internet, and bought 200 tablets of Actifed from Taiwan. The only good part of this transaction, was the fact that I saved about 30%, off the retail price here. The bad part was...
1) It took about 2 weeks to get here.
2)My credit card company, called me the next day, to see if I authorized this transaction. (Taiwan transaction... remember?)
3)My postal carrier left a message in my mailbox, stating that I had to drive to my local post office to pick it up. I didn't get off work, until after the post office closed, so I had to make an, "out of the way trip" in the morning to pick it up.
..nice huh!!
...thanks Evan Bayh!! (and good riddance!!)