Rev. Wright seems relatively tame when we compare his "sermon" with that man that John McSame seems to like so much, John Hagee. Hagee says that the Holocaust was an ACT OF GOD TO SEND JEWS BACK TO THE HOLY LAND, and while McCain is FINALLY, AFTER SEVERAL MONTHS, trying to distance himself from this religious charlatan, he hung onto Hagee far longer than Obama hung onto Wright:
McCain talks issues as troubles pile up
Facing a pile of controversial campaign troubles - including incendiary comments by televangelist John Hagee that forced him to reject Hagee's endorsement - Sen. John McCain tried mightily to shift the focus to economic issues and his Democratic opponent Barack Obama on Thursday during a California campaign swing.
...
But at the start of his Northern California fundraising and campaign trip, the dominant news of the day was not on McCain's official agenda: The controversial Hagee had, in the 1990s, said Adolf Hitler had acted as an agent of God to cause the Holocaust to send more Jews to the Holy Land.

Minutes after the Union City event, McCain issued a statement rejecting the influential Texas pastor's endorsement - one he had eagerly sought in order to win the support of churchgoing conservative voters.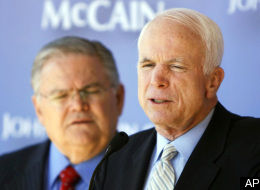 McCain Backer Hagee Said Hitler Was Fulfilling God's Will