Following is a blog entry which was written and posted last Friday evening, October 24, 2008. I hope you like it...
"GOP Graveyard 2008"
Right around two years ago, I wrote
"Republican Death Rattle,"
followed by
"Republican Death Rattle II"
and then
"GOP Graveyard 2006."
Not long afterwards, the radical right had their applecart completely upset on Election Day in November of 2006 when Democrats re-took majorities in the House of Representatives and the Senate...just as Howard Dean
had brashly predicted
almost a year earlier, in November of 2005.
That one felt better than Christmas.
Now, I'm no great shakes in the prediction department; my crystal ball is cracked, cloudy and overdue for a check-up, but sometimes things are obvious if you pay attention to the right clues. Don't listen to your crappy corporate media; their job is not to inform you and it NEVER has been. They've got a vested interest in convincing people that, with a little over a week until Election Day, there's an actual horse race going on here and it might even be neck-and-neck at the moment. Those overly made-up hair puppets on the cable channels are doing their level best to remain relevant in the face of an unprecedented popular groundswell that renders them superfluous. Don't believe the hype: Barack Obama is going to be our next president, boys and girls, and we'll be marching into the future very shortly. You heard it here first...
There really isn't much doubt of the outcome, even at this early date. The GOP is
freaking out
at the prospect of being not only out of power, but
largely marginalized.
(And don't be fooled: A filibuster-proof Senate majority is a whole lot more likely than Bedard cares to admit!) It would be difficult to express the unrestrained joy I feel at this prospect. It looks as if Senator Obama's coattails are going to be long and strong...and some of those close down-ticket races will tilt into the Dem column before all is said and done. State and local campaigns also stand to benefit from bitterly anti-Republican sentiment currently running rampant among an electorate suffering the greatest financial crisis of their lifetimes.
This is not an accident.
Back in March of this year, in a post entitled
"Even More McCain Perfidy,"
I pointed out many of the reasons I perceived John McCain as a fatally flawed candidate. Here's a man whose integrity as well as his fighting spirit were both crushed out of him in that brutal primary campaign of 2000. Karl Rove's treachery reduced McCain to a mere shadow of his former self, made of him a dreadful cartoon pandering to everyone and everything he'd previously stood foursquare against...and schooled him in the use of low blows and dirty tricks.
Thus, his whole-hearted turn to the Dark Side mere weeks ago
should not REALLY have come as a surprise
...but the fact that none of his fear-mongering and slimy smear tactics have had a perceptible effect on the juggernaut that is the campaign of Senator Barack Obama certainly is intriguing! The only real result has been the
decline in his own poll numbers
and the undeniable tarnishing of his personal reputation among voters on the right. As the desperation continues, his own advisors are acrimoniously
pointing fingers
, in a panic to cover their backsides. And McCain himself gives every indication
of virtually conceding defeat
. Whoda thunk it??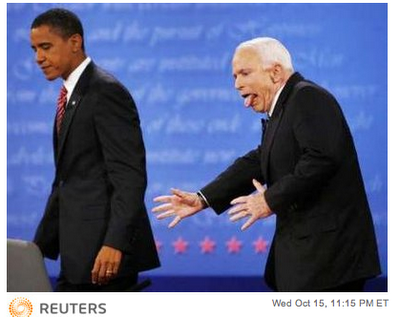 I'm not going to put up any poll numbers here right now; you can go and get the very latest for yourself at
Pollster
or
Five Thirty Eight
or--for the rightwing slant--
Real Clear Politics
. However,
here's
a little something to tantalize you...
So Senator Obama's initial hurdle, that of actually getting himself elected, seems to be pretty much of a lock. "Don't get cocky," the candidate warns his voter base, though, and it's bloody good advice. If too many people think that this one's in the bag...then the over-confidence could well kill it. Myself, I like the Conceptual Guerilla's advice. On his morning show at "Radio Free Jacksonville," WHJX, 105.7 FM, Jacksonville, Florida--HUGE unabashed plug!--CG urges his listeners to get out and vote regardless of the situation on November 4th. If all you supporters believe Senator Obama might lose, then go help him win; if you believe he's going to win, then help him achieve the landslide which will break the hearts of unclean Republicans everywhere! Old joke: "We suggest you vote early and often..."
The next set of hurdles, however, is going to be the real test.
Democrats stand to inherit an unmitigated mess in economics, foreign policy, Global Warming and just about everything else the current blighted administration has deigned to lay its sleazy fingers upon in these last eight years. President Obama's new kids on the block won't benefit from any kind of "honeymoon," either; AM Hate Radio is already gearing up to savage them like a pack of rabid dogs as soon as the Inauguration is concluded. There will be no, um, mercy. Watch it happen.
In the midst of all this, there are likely to be numerous ongoing investigations into the cronyism, malfeasance, incompetence and misprision that were the prevailing motive forces on Capital Hill for two terms of the Bush Crime Syndicate. For one thing, the US attorney firing scandal is going to be one of the first out of the gate...and you can consequently expect a concerted attempt to embroil Turdblossom Rove in the flagrantly illegal doings which revolved around voter suppression and related crimes. A subpoena? Almost certainly. Indictments? Don't bet against it. Bill Clinton made the gravely troubling mistake of letting the Iran/Contra felons along with their many enablers and facilitators off the hook when he came into office in 1993; I somehow doubt that a President Obama will repeat it. There's too much at stake now and we haven't seen any genuine accountability moments for the arrogant berserkers who have made a shambles of nearly everything our nation once valued and represented. Such casual, criminal disdain must not be allowed to stand. With a Justice Department which is not so corrupted and politicized, there won't be such flagrant thumbing of noses at the Rule of Law.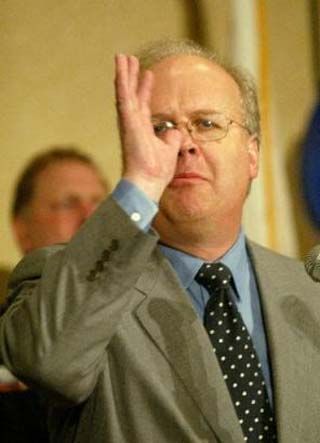 And let's not even think of the possibility of another terrorist attack early in an Obama presidency. I wish he hadn't done it, but that dreadful scenario has
already been mentioned
by Democratic Vice Presidential nominee, Senator Joe Biden...who, with his considerable experience, might just know something the rest of us don't. (Even though he can't see Russia from his front porch.) The plain ugly truth of it is that Commander Codpiece's simple-minded "yee-hah" approach to foreign policy has made the entire civilized world less safe. And don't even get me started on those neocon nutbars: Stupidest guys on the planet.
But there's no sense borrowing trouble; if we take this thing one step at a time, we'll get through it. We will because me must; the alternatives are too dire to contemplate. So on the night of November 4th, be sure to raise a toast of your favorite beverage to Senator Barack Obama.
We're all of us going to make a little bit of history on that magical night...