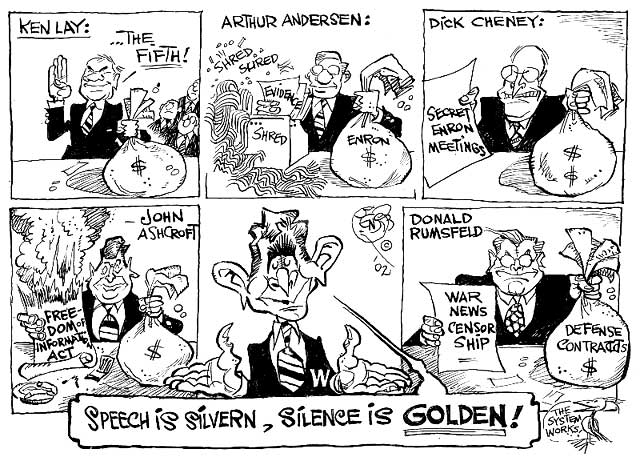 Cartoon by K. Bendib, all rights reserved.
Donate and receive Bendib's 1st book of 152 cartoons here!
I will provide a detailed examination of Bush's campaign promises/lies as I continue to add to this site.
As the days go by I will provide links to documentation validating my points. I would like to make this point in advance however.
Before we examine specifics it is important to understand Bush's 2 most obvious, yet least noticed campaign lies.
If you recall Bush's campaign, he professed 2 main points regarding his goals for the nation.
In a pledge to America, George W. Bush vowed to restore integrity and dignity to the White House after the Clinton years. - Well, let me pose a few examples of Bush's idea of decency. Please tell me where the integrity and dignity is?

Bush campaigned on the promise of Compassionate Conservatism
The Lies:
Blatant Lie During Campaign - Another one on the Environment

US will destroy its enemies, says Cheney

- The United States will not pursue deterrence or containment policies in its so-called war on terrorism but would instead seek to utterly destroy its enemies, said US Vice-President Dick Cheney. - TVNL asks: Does anyone remember Bush's campaign promises? What exactly did he mean by "compassionate conservatism?" Why did he say that America won't be a bully? Why did he then go ahead and pack the administration with PNAC jerks like Cheney and Rumsfeld?

Bush kept some promises however

The Buck Stops There

- Bush shifts the blame for his Iraq whopper.- When George W. Bush ran for president, one of his big selling points was responsibility. - He promised an "era of responsibility" in which leaders and citizens would no longer "blame somebody else."

Federal spending soars under Bush's watch

- President Bush came to office

saying he was a fiscal conservative

, but federal spending has skyrocketed on his watch. And it's not just the Pentagon that's getting more federal dollars.

The Uncompassionate Conservative

- It's not that he's mean. It's just that when it comes to seeing how his policies affect people, George W. Bush doesn't have a clue. - What is the disconnect? One can see it from the other side --

people's lives are being horribly affected by the Bush administration's policies

, but they make no connection between what happens to them and the decisions made in Washington.

Hopes for Civility in Washington Are Dashed

- In Bush's Term, Tone Worsened, Partisans Say - Thirty-seven months ago, President-elect George W. Bush stood in the Texas House chamber and called for the nation's leaders to "put politics behind us and work together" after the bitter Florida recount. - Early in the term, "I had high hopes for Bush" changing the tone, said Rep. Ray LaHood (R-Ill.), a voice of civility in Congress. "We were on the high road then, but now I think

we've hit an all-time low

." -

"It's his way or no way,"

said Harry M. Reid (D-Nev.), the Senate minority whip. "He's a man who campaigned on having a better relationship, and

it's exactly the opposite of what he said he would do

.

I've never served with anybody who is so uncooperative

."

The State of Compassion

- When Bush started calling himself a "compassionate conservative" during the 2000 election campaign, critics dismissed this as an oxymoron—or "baloney," to use the technical term.After four years of "compassionate conservatism"—what is it? - So, to sum up: Talk loudly. Carry a big stick anyway. Spend money. Borrow to pay for it. Fiddle the books. I guess that's a governing philosophy of sorts.