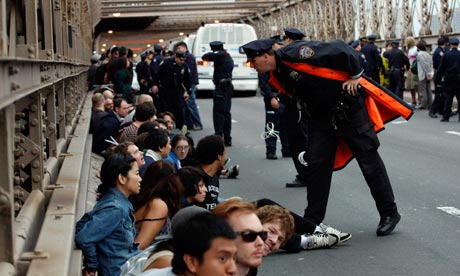 The first systematic look at the New York police department's response to Occupy Wall Street protests paints a damning picture of an out-of-control and aggressive organization that routinely acted beyond its powers.

In a report that followed an eight-month study (pdf), researchers at the law schools of NYU and Fordham accuse the NYPD of deploying unnecessarily aggressive force, routinely obstructing press freedoms and making arbitrary and baseless arrests.
The study, published on Tuesday, found evidence that police made violent late-night raids on peaceful encampments, obstructed independent legal monitors and was opaque about its policies.

The NYPD report is the first of a series to look at how police authorities in five US cities, including Oakland and Boston, have treated the Occupy movement since it began in September 2011. The research concludes that there now is a systematic effort by authorities to suppress protests, even when these are lawful and pose no threat to the public.