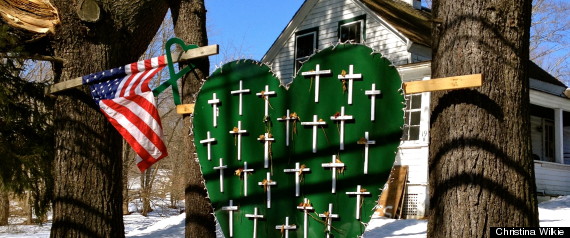 The National Rifle Association came under fire late Thursday from members of a gun-control advocacy group in Newtown, Conn., after reports surfaced of Newtown residents receiving robocalls and pro-gun postcards from the NRA.

The advocacy group, the Newtown Action Alliance, posted a Facebook message Thursday about the calls, prompting responses from people who said they'd received communications from the NRA and were upset by them.
"I received one of these [robocalls]. I was insulted and offended," wrote a Newtown resident named Chris Wenis. Another woman, Lisa Abrams, wrote that she had "received a call and a postcard asking me to call my congressmen and tell them 'NO ASSUALT WEAPONS BAN' [sic] ... I was not happy and needless to say did just the opposite!"

Tom Maurath, a 40-year resident of Newtown, said he was having dinner with his family on Tuesday when the phone rang at 6:37 p.m. "Our caller ID announces who is calling, and when I heard 'National Rifle Association,' I jumped to answer the phone so my 6-year-old son wouldn't get there first," he told The Huffington Post in an interview. "Our son loves to answer the phone because it might be Grandma."