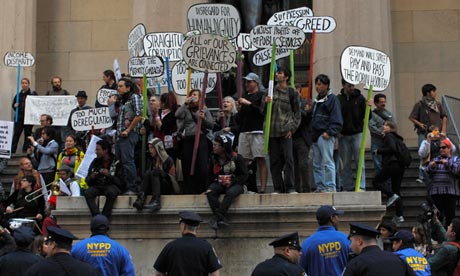 It has been two years since a band of protesters first pitched their tents in lower Manhattan, sparking the movement against corporate greed now known as Occupy Wall Street.

On Tuesday morning, about 100 Occupiers returned to the small granite plaza, near the New York Stock Exchange, which once teemed with thousands of protesters. This time around, the park was barely half full. Most of the granite benches were empty. The number of police officers and reporters nearly equaled the number of protesters.
Small groups of protesters marched around the streets near Zuccotti Park in the morning, while another march to Washington Square Park clogged the sidewalks in the early afternoon. The protesters were scattered in smaller groups around New York City.

An "assembly for the 99%" was held in the afternoon at Zuccotti, as a nod to the massive general assembly meetings that were held on a daily basis in the park at the height of the movement.