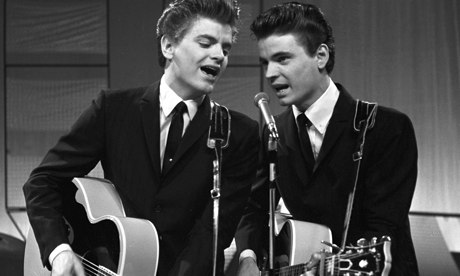 From 1957 the plangent voices of the Everly Brothers rang out to herald the birth of the rock'n'roll age in America, with songs such as Wake Up Little Susie, Bye Bye Love, Cathy's Clown and All I Have to Do Is Dream. Over the next decade the clean-cut duo influenced a generation of musicians on both sides of the Atlantic and proved that the vocal cords of family members are the surest route to stunning close harmonies.

On Saturday, musicians and fans across the world reacted with sadness and nostalgia to the death of Phil Everly in Burbank, Los Angeles, as they remembered a lost era and a lost sound. Phil, the younger of the two brothers, was 74 and had been suffering complications from chronic obstructive pulmonary disease, after a lifetime of smoking, according to his wife, Patti.
In response to the news, musicians such as the guitarists Duane Eddy and Brian May expressed their admiration for a singing pair who, in the words of Bob Dylan, "started it all". Describing the Everly Brothers' music as "the most beautiful sound you'll ever hear", Eddy said: "They were like two great singers that came together who happened to be brothers and had that same sibling quality."