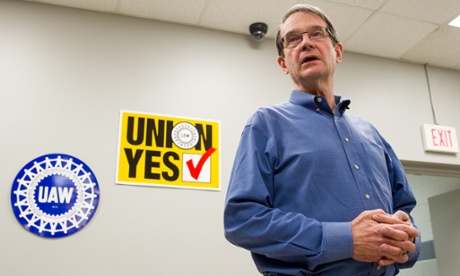 Union officials filed an appeal on Friday against a vote that denied labour representation at a Tennessee Volkswagen plant, blaming a "firestorm of interference" for the no vote.

The United Auto Workers (UAW) narrowly lost a vote last week to represent workers at VW's Chattanooga plant, the German car company's only factory in the US and one of the company's few in the world without a works council.

The vote was seen as a major blow for the UAW and union representation in southern manufacturing states. It came after months of intense lobbying against the UAW from rightwing pressure groups and Republican politicians.
"A firestorm of interference from politicians and special interest groups threatening the economic future of the plant occurred just before and during three days of voting," the UAW said in a statement.

The UAW said its objections – filed with the National Labor Relations Board (NLRB) – detail a "coordinated and widely publicized coercive campaign conducted by politicians and outside organizations to deprive Volkswagen workers of their federally protected right to join a union."