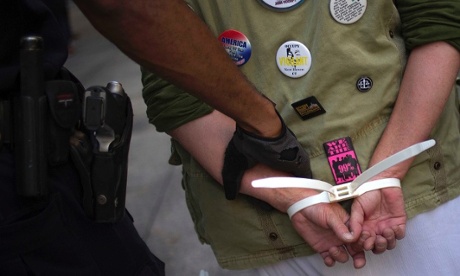 New York City has agreed to pay $583,000 in compensation and legal fees to a group of Occupy Wall Street demonstrators who alleged they were wrongfully arrested, in what their lawyers called the largest settlement reached with members of the protest movement.

A group of 14 protesters, who alleged in a federal lawsuit that their constitutional rights to free speech and assembly were violated by their arrests on 1 January 2012, will each receive between $5,000 and $20,000 in compensatory damages, their lawyers said on Tuesday.
The protesters were arrested in the East Village and charged with blocking pedestrian traffic after marching from Zuccotti Park in lower Manhattan. They said that they were ordered to disperse despite being penned in by police – a claim they said was supported by video footage.

Manhattan prosecutors subsequently declined to prosecute the group, along with most of the roughly 2,600 Occupy protesters who were arrested over several months after the anti-capitalist protest group rose to prominence in late 2011.