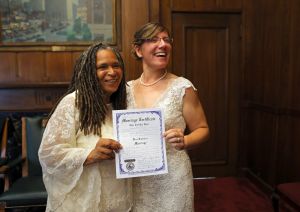 Miranda Duschack and Karen Davis were first married in a 2012 spiritual ceremony where they jumped over a broom, an African wedding tradition also used today by some same-sex couples to signify vows that aren't legally sanctioned.

On Wednesday the couple, who together run an urban farm in south St. Louis, stepped into history on the burgundy carpet of Mayor Francis Slay's ornate City Hall office by exchanging vows, and were given an official marriage certificate in a ceremony officiated by Municipal Judge Joseph Murphy.
"We're actually doing this," said an ecstatic Davis. "Can you believe it?"

As the question of the constitutionality of statewide same-sex marriage bans could soon spill into the marble halls of the U.S. Supreme Court, the city issued three other same-sex marriage licenses Wednesday. But officials will voluntarily stop issuing more as they pledge a court battle over Missouri's constitutional ban on same-sex marriage.