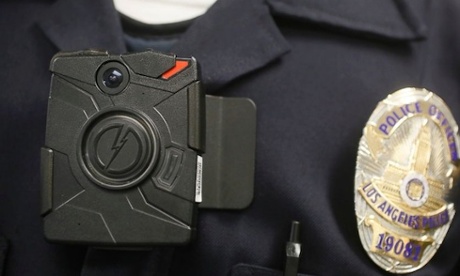 Had the death of 43-year-old Eric Garner not been caught on film, calls to outfit New York Police Department officers with cameras might have quietly faded. Instead, a bystander captured Garner locked in a chokehold as he repeated: "I can't breathe."

Garner's encounter with police – ruled a homicide by the New York city medical examiner – is not the only one that has resulted in visceral video. A driver captured a California highway patrol officer punching a woman repeatedly as she shielded her face with her arms. Two weeks after the video of Garner went viral, building residents filmed the NYPD dragging a Brooklyn grandmother out of her apartment in her underwear.
On Monday, the public advocate of New York, Letitia James, called on the city's police department, once again, to begin a pilot program using the cameras. "We need action today," she told a news conference. The NYPD, America's most influential police department, confirmed that it is reconsidering the potential of such cameras.

Even as departments face scrutiny because of citizens' videos, they are being pressed to adopt the technology themselves. Attempts to hold police accountable with video are not new, and neither is law enforcement's distaste for being filmed. But the long history of avoiding the lens is bumping up against technology, as strapping cameras to officers themselves is increasingly considered good policing practice.