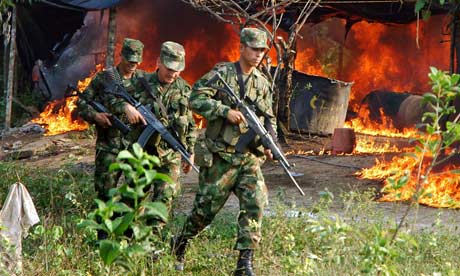 The most far-reaching and detailed analysis to date of the drug economy in any country – in this case, Colombia – shows that 2.6% of the total street value of cocaine produced remains within the country, while a staggering 97.4% of profits are reaped by criminal syndicates, and laundered by banks, in first-world consuming countries.
"The story of who makes the money from Colombian cocaine is a metaphor for the disproportionate burden placed in every way on 'producing' nations like Colombia as a result of the prohibition of drugs," said one of the authors of the study, Alejandro Gaviria, launching its English edition last week.
The mechanisms of laundering drug money were highlighted in the Observer last year after a rare settlement in Miami between US federal authorities and the Wachovia bank, which admitted to transferring $110m of drug money into the US, but failing to properly monitor a staggering $376bn brought into the bank through small exchange houses in Mexico over four years. (Wachovia has since been taken over by Wells Fargo, which has co-operated with the investigation.)

But no one went to jail, and the bank is now in the clear. "Overall, there's great reluctance to go after the big money," said Mejía. "They don't target those parts of the chain where there's a large value added. In Europe and America the money is dispersed – once it reaches the consuming country it goes into the system, in every city and state. They'd rather go after the petty economy, the small people and coca crops in Colombia, even though the economy is tiny."