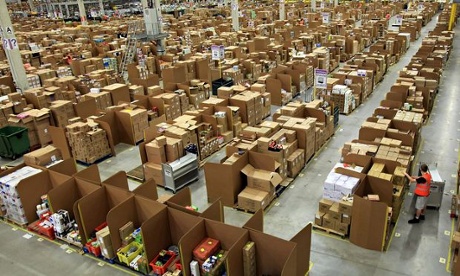 When President Barack Obama visited an Amazon's fulfillment center in Chattanooga, Tennessee last year, he compared it to Santa's workshop. "This is kind of like the North Pole of the south right here," he said. Then speaking of the workers, he added, "Got a bunch of good-looking elves here."

What went unsaid and unnoticed was that the Amazon "elves" would not have jobs or prospects after the holidays. Many of the people in those Amazon warehouses were among the long-term unemployed – shuffling from one temporary job to another to another. Due to this unstable employment, number of them have found themselves living in shelters.
Working away in warehouses, beyond the pages of Amazon's website, the seasonal workers and the effects that temporary contracts have on their lives are kept out of public's eye and often avoid scrutiny.

Andrew Cummins, 43, was one of these elves last year, working north of Chattanooga at an Amazon warehouse in Jeffersonville, Indiana. For three months, he stowed away clothes, working 40 hours a week at $10 an hour. He enjoyed the job and saw it as his ticket out of the Haven House, a shelter where he lives with his wife, Kristen, and stepson.