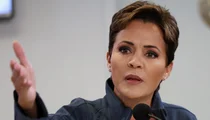 The failed Republican candidate for Arizona governor, Kari Lake, has spent a lot of time hobnobbing at Mar-a-Lago, Donald Trump's personal Disneyland, and she seems to have fallen completely under the spell of the enraptured proselytes who populate the former president's conspiracy driven Shangri-la.
Lake used to reside in the real world, the one where facts are facts and events that happen actually, you know, happen.
Now, however, I'm not sure in what imaginary realm Lake believes herself to dwell.
Narnia, maybe? Middle-earth? Oz? Wonderland?
Lake's land of make believe is someplace where a losing political candidate can have the expedited appeal of her election lawsuit rejected by the Arizona Supreme Court, after having had no success in other courts, and after having lost the election, and still tell an interviewer that she – not the recently sworn-in Katie Hobbs – is the "duly-elected governor" or Arizona.