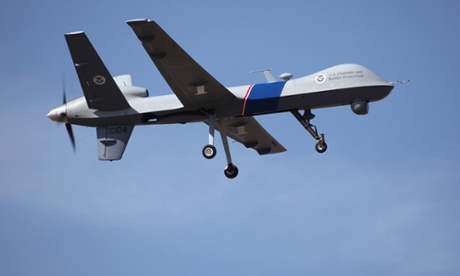 The Federal Aviation Administration said Tuesday it has granted the first permission for commercial drone flights over US land to the BP energy corporation, the latest effort by the agency to show it is loosening restrictions on commercial uses of the unmanned aircraft.

Drone maker AeroVironment of California and BP energy corporation have been given permission to use a Puma drone to survey pipelines, roads and equipment at Prudhoe Bay in Alaska, the agency said. The first flight took place on Sunday.

The Puma is a small, hand-launched craft about 4.5ft long and with a 9ft wingspan. It was initially designed for military use.
AeroVironment chief executive Tim Conver said the Puma "is now helping BP manage its extensive Prudhoe Bay field operations in a way that enhances safety, protects the environment, improves productivity and accomplishes activities never before possible."
Last summer, the FAA had approved the Puma and the ScanEagle, made by Boeing subsidiary Insitu Inc of Washington, for flights over the Arctic Ocean to scout icebergs, count whales and monitor drilling platforms.

"These surveys on Alaska's North Slope are another important step toward broader commercial use of unmanned aircraft," said transportation secretary Anthony Foxx. "The technology is quickly changing, and the opportunities are growing."