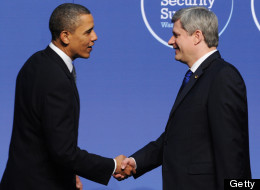 Canadian Prime Minister Stephen Harper, trying to win U.S. backing for the Keystone XL pipeline, has sent a letter to President Barack Obama proposing joint action to reduce greenhouse gas emissions in the oil and gas sector, CBC News said on Friday.

The White House has not responded to the letter, which was sent in late August, CBC said, although Harper met Obama briefly during the just-ended G20 Summit in St. Petersburg, Russia.
Obama has the final say over whether to let the pipeline cross from Canada into the United States and has said he would only approve it if it "does not significantly exacerbate the problem of carbon pollution".
The $5.3 billion pipeline, which would carry 830,000 barrels per day and stretch from the tar sands of northern Alberta to the U.S. Gulf Coast, is being proposed by TransCanada Corp .