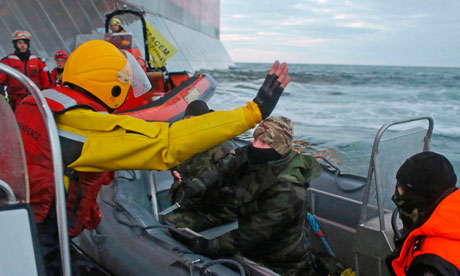 Jumping from helicopters and slithering down ropes, more than a dozen armed Russian coastguard workers boarded a Greenpeace ship and took custody of the activists on board, to stop them from disrupting the work of a controversial oil rig.

After a scuffle between the activists and the Russian security forces, the 29 activists, including six British nationals, are apparently being held on board at gunpoint, while the ship is forcibly towed to the Arctic port of Murmansk.
The Russian coastguard, which is controlled by the FSB security services, boarded the Arctic Sunrise late on Thursday night near Prirazlomnaya, a drilling platform in the Pechora Sea, close to the Novaya Zemlya archipelago.

The activists were protesting against the rig, operated by the Russian energy giant Gazprom, which is due to come online soon, and had attempted to climb aboard it and stop work.