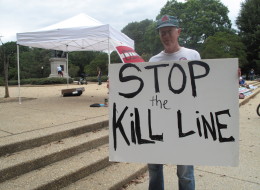 Despite the gray skies in Washington on Saturday, more than 100 protesters carrying handmade signs showed up in Lincoln Park to call on the Obama administration to reject the Keystone XL pipeline.

The protest was part of the "Draw the Line" campaign, a day of action led by the environmental group 350.org that included 200 rallies in nearly 50 states. The protesters argue that approving the proposed oil pipeline from Alberta, Canada, to Texas would hinder the Obama administration's climate plans. DC Divest, a group petitioning the government of the District of Columbia to stop investing in fossil fuel companies, coordinated the local event, which drew about 140 people.
Organizers had laid out a tarp with cans of paint, poster board and stencils so that participants could make their own orange and black signs. At another table, a sign illustrated how climate issues like sea level rise would affect the region.
TVNL Comment: It is not unusual for more than 60,000 fans to attend a major football game in the US. How sad that only a few hundred people will take the time to protest this disastrous project.