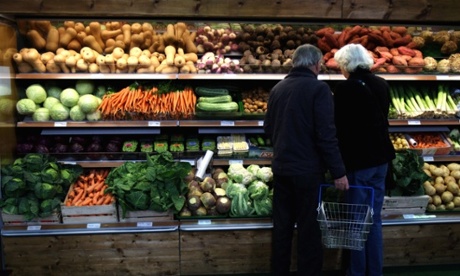 The number of American households with access to enough food for a healthy, active life has remained largely unchanged since it spiked during the 2008 economic recession, according to the US department of agriculture's annual report on food security released on Wednesday.

Eighty-five point seven percent of US households had access to enough food for the entirety of 2013, the report found. The number of households that for at least part of the year did not have access to safe, available foods has hovered in the 14% range since 2008 when it jumped from the the 2007 figure of 11.1% because of the economic recession.
"At this rate it would take decades to get back to the rate before the recession," Jim Weill, president of the Food Research and Action Center, told the Guardian. "So the progress that is being made is far, far too slow. The rate was far too high before the recession and we're not moving very fast at getting back towards that rate."

Of the 14.3% of households that fall into the food insecurity category, 5.6% are in the lowest threshold of "very low food security." This checks out to an estimated 6.8m households across the US that had to adjust their eating patterns because of lack of money or other resources to get food. A majority of that group said they had skipped meals or cut down the size of meals because they didn't have enough money for food.