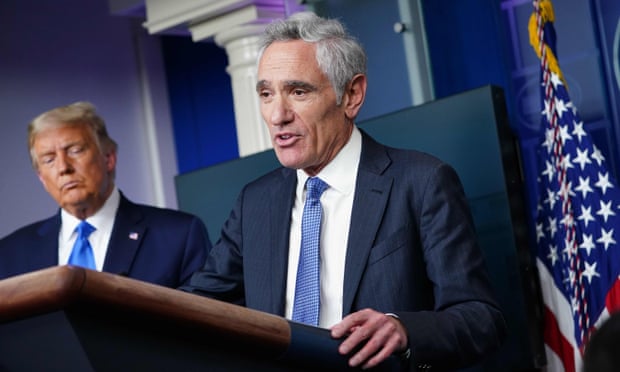 The director of the Centers for Disease Control and Prevention (CDC) was overheard on a phone conversation aboard a commercial flight saying a lead member of Donald Trump's coronavirus taskforce has been spreading misinformation about the pandemic.
Robert Redfield was overheard by an employee of NBC News on a flight from Atlanta to Washington. According to NBC, Redfield criticized Scott Atlas, a radiologist and Fox News talking head added to the taskforce last month.
"Everything he says is false," Redfield said about Atlas, NBC reported. Redfield later confirmed he had been talking about Atlas.
Confirmed deaths from Covid-19 in the United States have passed 200,000 and the number of cases has passed 7m.
Atlas, who has no background in infectious diseases but who appears to have the best current access to Trump of any medical adviser, has been frequently criticized by the scientific and medical communities for offering what public health professionals say is bad advice about coronavirus.