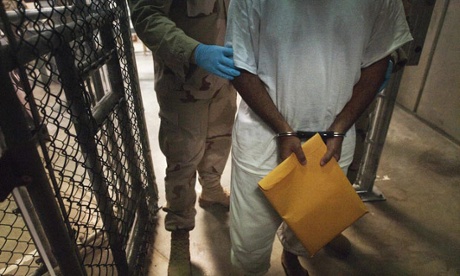 Hunger-striking detainees in Guantánamo Bay will be able to challenge in federal court the force-feeding to which many are being subjected, a Washington appeals court ruled on Tuesday, though the judges declined to put an immediate end to the practice.

In a split judgment from the US court of appeals for the DC circuit that deals with Guantánamo, the judges ruled by 2-1 to allow detainees to challenge the conditions of their confinement, specifically force-feeding, in habeas corpus petitions to the federal courts. The decision overturns two earlier rulings by separate district judges who had suggested the military commissions in Guantánamo effectively stripped the federal courts of jurisdiction over detainees and their custodial conditions.


Though the appeal court ruling will do nothing instantly to change the plight of the hunger-striking detainees, it does open the door to challenges against force-feeding in the federal courts. Shayana Kadidal, managing attorney of the Guantánamo project at the Center for Constitutional Rights, predicted there would now be a wave of claims from detainees relating to solitary confinement, force-feeding and policies that prevent the men being able to work with their lawyers on a regular basis.
"That's ultimately because conditions at Guantánamo have got much worse than they were during Obama's first term, not because the courts have had some sudden change of heart," Kadidal added.

Since December, US authorities have declined to make public the number of detainees who are on hunger strike, making it impossible to know with certainty the extent of the protest. But lawyers working with the men estimate that of the total of 155 still detained on the base in Cuba, with 34 on hunger strike.