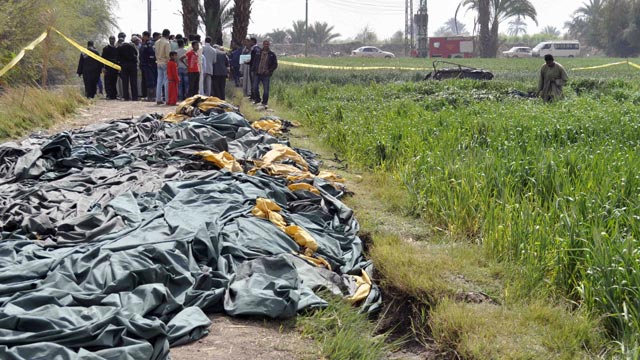 The balloon is believed to have caught fire and exploded on Tuesday morning, plunging into a sugar cane field west of Luxor, which is 320 miles (510km) south of the capital, Cairo.

Witnesses described seeing people leaping out of the balloon as it was on fire. The casualties included British, French, Belgian, Hungarian and Japanese nationals and nine tourists from Hong Kong, the Luxor governor, Ezzat Saad, told reporters.
The tragedy is one of the world's worst ballooning accidents and dealt a fresh blow to Egypt's tourism industry, which is reeling after two years of political unrest since protests that led to the ousting of President Hosni Mubarak in 2011.

A Foreign Office spokesman said: "We can confirm the tragic deaths of two British nationals and one British resident following a hot air balloon crash in Luxor, Egypt earlier today.