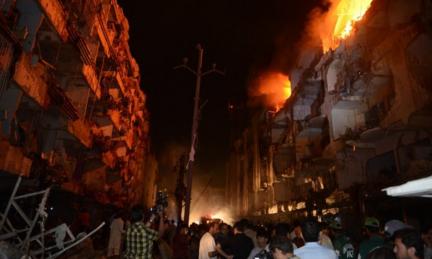 At least 45 people have been killed by a bomb explosion in the Pakistani city of Karachi, police say. The blast in the mainly Shia Muslim area of Abbas Town destroyed several buildings and set others on fire. Some reports spoke of a second explosion.

No group has yet said it planted the bomb, which went off near a mosque as worshippers left evening prayers.
Pakistan's Shia minority are the target of frequent sectarian attacks from Sunni militant groups. The explosion sent a huge column of smoke into the sky above Karachi and caused a power cut in part of the city.

Police are investigating whether it was a suicide attack. Rescuers have been struggling to reach people trapped under the rubble.

Residents have been using car headlights to help the search for survivors, local media reports said. Around 150 people were wounded by the explosion, officials said.