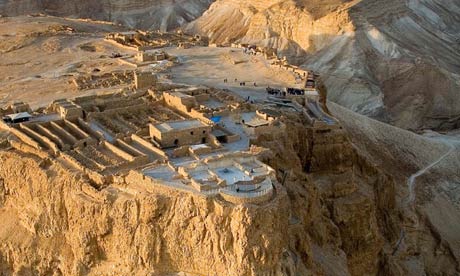 After the declaration of the state of Israel in 1948, Masada took on a new significance, symbolising heroism and sacrifice. "It is a place of ancient doom which time has turned into a symbol of the pride of a new nation," wrote Ronald Harker in the Observer book on Masada, published in 1966.

Newly enlisted soldiers were taken to the desert fortress to swear their oath of allegiance, including the shout: "Masada will not fall again!"
But some have cast doubt on the "myth of Masada", saying it was either exaggerated or the suicide story was simply wrong.

Guy Stiebel, professor of archaeology at Jerusalem's Hebrew University and Masada expert, said the evolution of myth is common in young nations or societies. "In Israel it's very typical to speak in terms of black and white, but looking at Masada I see a spectrum of grey.

More...

The left regard Masada as a symbol of the destructive potential of nationalism. The right regard the people of Masada as heroes of our nation. For me, both are wrong.

"If you put me in a corner and ask do you think they committed suicide, I will say yes. But this was not a symbolic act, it was a typical thing to do back then. Their state of mind was utterly different to ours.

"The myth evolved. All the ingredients were there. At the end of the day, it's an excellent story and setting, you can't ask for more."

Yadin Roman, the editor of Eretz magazine, who is compiling a commemorative book on the Masada excavation, said some archaeologists had posited alternative theories, involving escape, although in the absence of evidence many were now returning to the suicide theory.

"Masada became an Israeli myth," he said. For a nation still reeling from the revelations of the 1961 trial of Adolf Eichmann, "brave Jewish warriors standing up to the might of the Roman army was a much-needed antidote. But some people challenged the merits of the story – you stand alone on a hill to fight your enemies and then commit suicide? This is the 'Masada complex'? This is the model for Israel?"