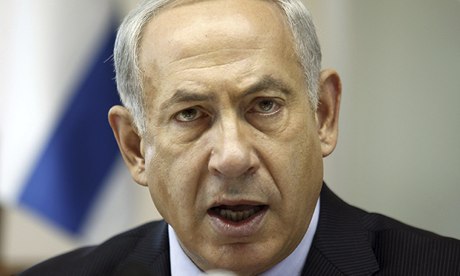 The Israeli prime minister, Binyamin Netanyahu, has said there will never be peace with the Palestinians until they recognise Israel as a Jewish state, and has dismissed Israel's military occupation of Palestinian land and the growth of Israeli settlements as the root cause of the conflict.

In an uncompromising speech, Netanyahu insisted the Palestinians must abandon their core demand of the right of refugees to return to their places of origin. "Unless the Palestinians recognise the Jewish state and give up on the right of return there will not be peace," the prime minister said in an address at Bar-Ilan University on Sunday.
But, he added, even such recognition by the Palestinian leadership would be insufficient. "After generations of incitement we have no confidence that such recognition will percolate down to the Palestinian people. That is why we need extremely strong security arrangements and to go forward, but not blindly," he said.

The tone of Netanyahu's speech will dismay those on both sides and in the international community who believe that renewed peace talks, brokered by the US, represent possibly the last chance for a deal to create a Palestinian state and end the decades-old conflict.