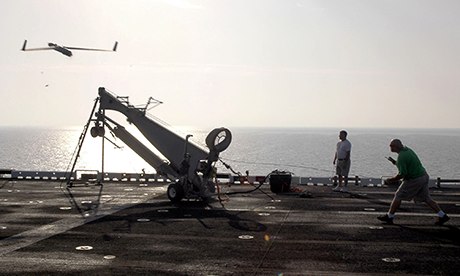 Iran has given Russia a copy of a US ScanEagle drone as proof that its elite forces have reverse-engineered and mass produced the American unmanned aerial vehicle they claim to have caputured a year ago.

Iranian news agencies reported on Monday that the US spy drone was provided to Russia on the sidelines of a meeting in Tehran between Farzad Esmayeeli, the air defence commander of Khatam al-Anbia, the revolutionary guards' military and industrial base, and the commander-in-chief of the Russian air force, Viktor Bondarev.
In December 2012, a guards' commander said his forces had got their hands on a US ScanEagle unmanned drone, promising Tehran would mass produce the aircraft. The US authorities denied those claims at the time, saying all its unmanned air vehicles were fully accounted for.

"The drone built by the Islamic republic's revolutionary guards is a symbol of the technical capabilities of the Islamic Iran and today we presented a real model of it as a gift to Russian air force commander Lieutenant General Viktor Bondarev and the Russian people," Esmayeeli said after meeting with Bondarev, according to the semi-official Fars news agency.