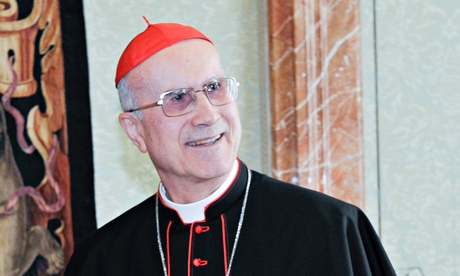 It sits atop the roof of an old palazzo in the centre of Rome, surrounded by a broad terrace that affords breathtaking views across the Eternal City to the mountains beyond.

The penthouse apartment at the centre of Paolo Sorrentino's Oscar-winning movie La Grande Bellezza? Or perhaps the chosen retreat of a Forbes-list billionaire?

No. The flat in question is being created in the Vatican for the man who until recently was its most senior official.
While Pope Francis has been exhorting his clergy almost weekly to live lives as simple and frugal as his own, work has been going ahead on a luxurious retirement home for Cardinal Tarcisio Bertone , who stepped down as the Vatican's secretary of state last October.

Reports of an extensive renovation project began to circulate in April. But it was not until last week that an Italian gossip magazine, Chi, published the first photograph of the work being carried out on top of the Palazzo San Carlo, just inside the walls of the city state.