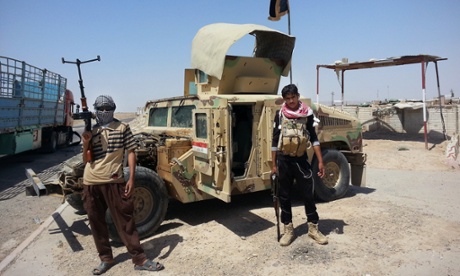 Barack Obama announced on Thursday that a contingent up to 300 "military advisers" will be sent to Iraq to bolster attempts to repel the advance of Islamist insurgents, but stopped short of ordering the air strikes demanded by Baghdad.

They will assist in helping the Iraqi military develop and execute a counter-offensive against the Islamic State of Iraq and the Levant (Isis), a mission likely to spread to target selection, a a prerequisite for any future air strikes.
Obama said any such strikes would be "targeted" and "precise". But he made it clear that the US would not be drawn into a new war in Iraq.

"American combat troops will not be fighting in Iraq again," Obama said in an address from the White House. "Ultimately this is something that will have to be solved by Iraqis."

The president said up to 300 military advisers will be deployed to Iraq, in "joint operations centres" in Baghdad and northern Iraq to support the Iraqi military – a structure adapted from the 2007 US troop surge, which moved US forces and Iraqi forces into the same quarters in besieged and contested neighborhoods.