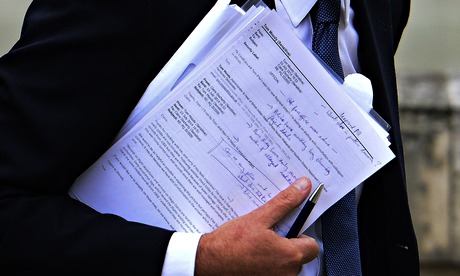 Crucial logs revealing flights to a British overseas territory when it was allegedly used as a secret US prison are in the possession of the police, the Observer has learned.

The revelation has raised concerns about why, despite repeated demands, details of the flights have not been shared with lawyers and MPs, who for years have been investigating the role played by Diego Garcia, an atoll in the Indian ocean, in the CIA's extraordinary rendition programme.

A Whitehall official was photographed last week carrying documents marked "sensitive" confirming that the logs recording details of planes landing and taking off at the atoll have been handed to detectives. The documents, a series of printed emails and handwritten notes made by the official, reveal internal Foreign Office discussions about the line to take in response to questions about the British territory raised by lawyers and MPs.
The Foreign Office has repeatedly stressed there is no evidence Diego Garcia was used in the rendition programme, with the exception of two occasions in 2002 when two planes, each carrying a detainee, landed to refuel. But in April leaked classified CIA documents from a forthcoming US Senate intelligence committee report revealed that the US had held "high value" detainees on Diego Garcia, which has been leased by Britain to the US since 1966, with the "full co-operation" of the British government. The Metropolitan police are currently investigating allegations that an opponent of Colonel Muammar Gaddafi was rendered via Diego Garcia.