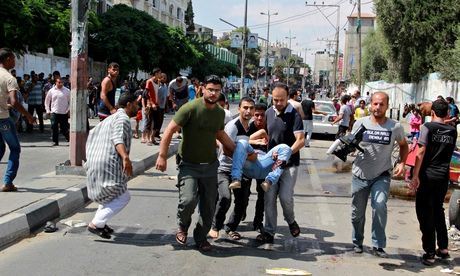 A third deadly attack on a United Nations school sheltering people fleeing bombardment in Gaza was strongly condemned by both the UN and the US on Sunday, with UN chief, Ban Ki-moon, calling it a "moral outrage and a criminal act" and pleading for an end to "this madness".

The US said it was appalled by the "disgraceful" attack, which killed at least 10 people and injured dozens just days after the shelling of two other UN schools in Gaza caused international shock and anger.
A hospital near the site of the attack, in the southern town of Rafah, was overwhelmed with the dead and injured. Children's bodies were stored in an ice-cream freezer as the morgue ran out of room.

It was, said Ban, "yet another gross violation of international humanitarian law, which clearly requires protection by both parties of Palestinian civilians, UN staff and UN premises, among other civilian facilities". He called for a swift investigation, saying "those responsible [must be] held accountable. It is a moral outrage and a criminal act."