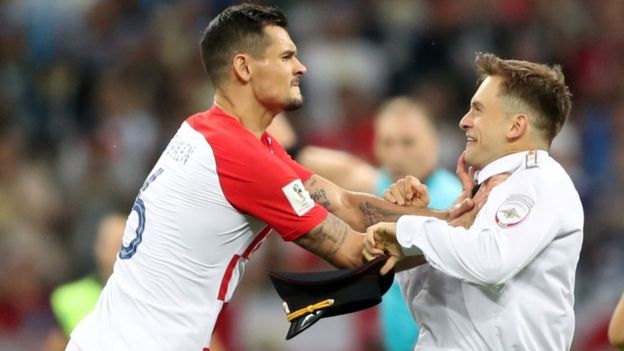 Pyotr Verzilov, an activist with Russian protest group Pussy Riot, is reported to have been taken to hospital in a serious condition.
Relatives speaking to the Meduza website said they believed he may have suffered poisoning but there is no official word on his condition.
He reportedly fell ill after a court hearing on Tuesday for fellow Pussy Riot activist Veronika Nikulshina.  Mr Verzilov was one of the activists who invaded the World Cup final pitch.
The BBC has been unable to independently confirm the reports of Mr Verzilov's ill-health.
Ms Nikulshina told Meduza that Mr Verzilov had complained of losing his sight, "then the ability to talk, then the ability to walk".
She said that when he was admitted to hospital, an initial examination "didn't turn up anything bad", but that later doctors suddenly moved Mr Verzilov to the hospital's toxicology wing.
Relatives quoted by Meduza say he still cannot speak and "reacts only with his eyes".
A member of staff at Moscow's Sklifosovsky hospital later confirmed to AFP news agency that Mr Verzilov was in the intensive care unit in a "serious condition", but gave no further details.