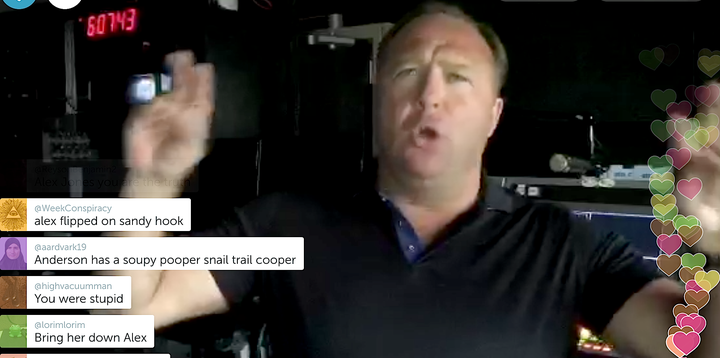 Alex Jones, conspiracy theorist and host of "InfoWars," on Saturday intensified his call for NBC News to release a full, unedited recording of his controversial interview due to air Sunday on the network's "Sunday Night with Megyn Kelly" program.

During a 15-minute rant posted to the live-streaming app Periscope, Jones said that if NBC did not publish at least about 100 minutes of his unedited interview on their website, he would release eight or more hours of secret audio recordings and footage he has of Kelly and her news team.
The recordings, Jones claims, were made in his car and at dinner with Kelly, and in the control room of his studio. During the ramblings he posted, he also insults longtime NBC News anchor Tom Brokaw and calls NBC News and Kelly "frauds."
TVNL Comment:  When you play in the mud, you're bound to get muddy, Megyn.  Anthing for ratings? Sad.