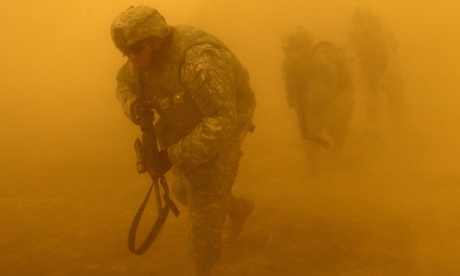 The two unarmed Iraqi brothers posed no threat as they herded cattle in a grove where a US army reconnaissance team was hidden one day seven years ago. But Michael Barbera, then a staff sergeant, took a knee, leveled his rifle and killed them anyway, a prosecutor said Wednesday as a preliminary hearing opened in the soldier's case.

The first boy was shot in the back, the prosecutor, Captain Ben Hillner, told an investigating officer considering whether Barbera should face a court martial in the March 2007 slayings. The second boy was shot in the chest as he raised his hands in the air, he said.
Barbera, 31 and now a sergeant first-class based at Alaska's Joint Base Elmendorff-Richardson, faces a mandatory sentence of life in prison if convicted of premeditated murder in a case that raised concerns about a possible cover-up. Two years after the killings, army criminal investigators looked into the case, but commanders decided to give Barbera a letter of reprimand instead of a court martial.

It was only after a Pittsburgh newspaper, The Tribune-Review, published an investigation about the matter in 2012 that the army took another look. The story described how some of Barbera's fellow soldiers remained troubled that he was never prosecuted, and it prompted calls from Congress for the army to review the matter.