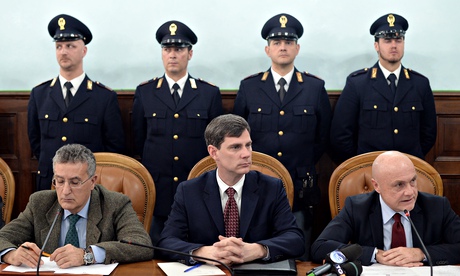 Police in Italy and the US have carried out a series of arrests in a joint operation aimed at smashing a new trafficking route for drugs and weapons that officials said had brought together the Gambino crime family of New York and the Calabrian mafia, or 'Ndrangheta.

Raffaele Grassi, an Italian police spokesman, said 24 people had been arrested, with two more still being sought. Seventeen of them had been detained in Italy, he said, and seven in New York by the FBI.
Operation New Bridge dismantled a major criminal plan intended to facilitate the international trade of drugs, weapons and laundered money between Italy, the US, Canada and Latin America, police said.
As a result of the two-year investigation carried out by police on both sides of the Atlantic, investigators said they had thwarted the delivery of hundreds of kilos of cocaine to the Calabrian port of Gioia Tauro from Guyana. The drugs were to have arrived hidden in cans of pineapple and coconut, a statement added.