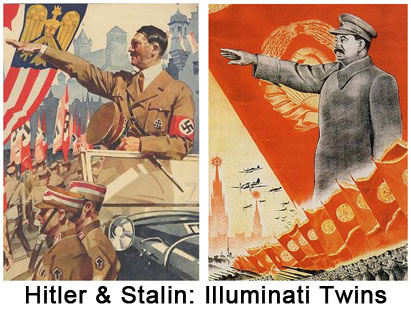 "The Soviet Story"  by young Latvian documentary filmmaker Edwins Snores argues that the Nazi and Communist regimes were mirror images and collaborated to an unexpected degree.
Snores says Hitler and Stalin had a secret agreement for the division of Europe; that Hitler gave Stalin permission to invade Nazi ally Finland and Stalin aided in the Nazi invasion of Norway. When the Luftwaffe bombed Poland, their planes were guided by navigational beams from Kiev. Communist parties in Europe were instructed to sabotage opposition to the Nazis and French Communists addressed their Nazi occupiers as "comrades."
According to Snores, almost everything. They were both socialist, nationalist and imperialist. They both wanted to create a "new man" and a "new world order."  Socialists are the only group that publicly advocate genocide. There is a jaw-dropping speech by George Bernard Shaw where he advocates euthanasia (a gentle gas, a painless death) for people who can't demonstrate they are "socially productive."
TVNL Comment: We have suggested something along this line as well.  We have pointed out how both Stalin and Hitler were financed by western capitalists. We guessed that Hitler, as most other world leaders, understood the goals of the people who were involved in the march towards world government, and he wanted to get a head start and do it ahead of schedule.