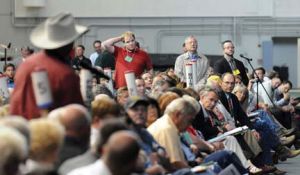 Bogged down by infighting over the qualifications of delegates and squabbles over Robert's Rules of Order, the Idaho Republican Convention came to a grinding halt Saturday afternoon. There was no election for state GOP chairman or adoption of a new Republican state platform.

Pocatello resident and chief executive officer of Premier Technology in Blackfoot, Doug Sayer, was a candidate for Idaho GOP chairman along with Blackfoot rancher, Mike Duff, and incumbent Barry Peterson. With the convention suspended, Peterson will remain chairman.

"A special committee will convene and there's a process in place to hold an election," Sayer said.
Before state convention chairman and Idaho Congressman Raul Labrador called for adjournment Saturday afternoon, Bannock County's entire 15-member delegation had been unseated. Efforts to do the same with the delegations from Ada and Twin Falls counties were underway.
"I had a hint going into it we were going to run into trouble," said Bannock County GOP Chairman Tony Madsen.

When the 15 people selected to represent Bannock County arrived in Moscow, eight other county residents were already at the convention claiming the delegate selection process in Bannock County was flawed. Similar challenges were filed against the Ada County Republicans and its delegation. Madsen said this led to lengthy debates within the credentials committee.