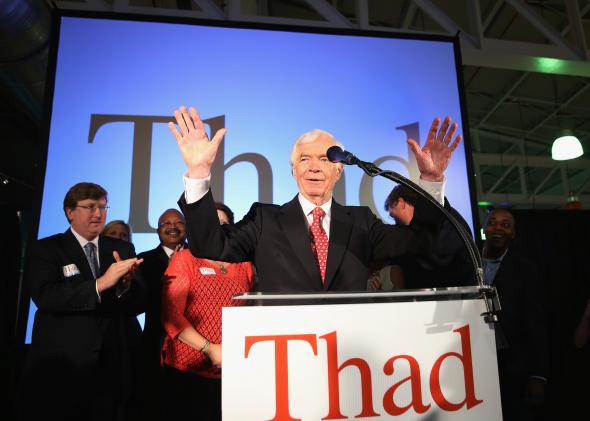 Well, the Great Tea Party Comeback of 2014 lasted no longer than the Great Tea Party Implosion of 2014. Mississippi Sen. Thad Cochran has narrowly won renomination over challenger Chris McDaniel, in a vanishingly rare case of an incumbent winning a runoff after losing round one of a primary—and in an even rarer case of turnout surging from the primary to the runoff.
Oklahoma Senate candidate T.W. Shannon has been defeated by a member of the House GOP leadership. A crew of Tea Party challengers to congressmen have gone down in flames across all time zones.
Let's recap. In Mississippi, Sen. Thad Cochran succeeded in a well-covered campaign to expand the primary electorate and beat conservative base voters. In June 3's primary, Cochran won only 153,654 votes. On June 24, he won nearly 190,000 votes, outpacing challenger Chris McDaniel, who also upped his overall votes. McDaniel actually won two more counties in this round (Choctaw, Panola) but lost overall.