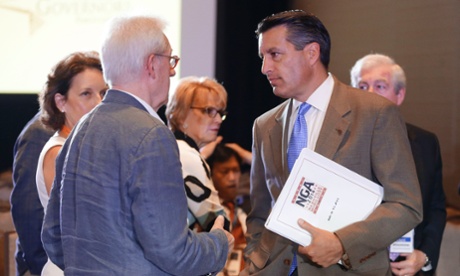 Deep in the Bible Belt, new signs emerged this weekend of evolving views among Republican governors on gay marriage.

While the Republican Party's religious conservatives continue to fight against same-sex marriage, its governors appear to be backing off their opposition – in their rhetoric, at least. For some, the shift may be more a matter of tone than substance as the GOP tries to attract new voters ahead of the midterm elections. Nonetheless, it is a dramatic turn for a party that has long been defined by social conservative values.
"I don't think the Republican Party is fighting it," Wisconsin's Republican governor, Scott Walker, said in an interview this weekend at the National Governors Association in Nashville.

"I'm not saying it's not important," continued Walker, who is considering a 2016 presidential bid should he survive his reelection test this fall. "But Republicans haven't been talking about this. We've been talking about economic and fiscal issues. It's those on the left that are pushing it."