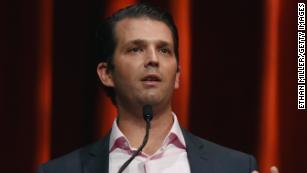 Donald Trump Jr. would not tell House investigators Wednesday what he and his father discussed after reports surfaced about a June 2016 meeting he had in Trump Tower, citing attorney-client privilege.
President Donald Trump and his son had a conversation this summer
after Trump Jr. produced emails
about his involvement in the Trump Tower meeting, according to Rep. Adam Schiff, a California Democrat, who attended the Wednesday session.
Trump Jr. did not provide further details and invoked attorney-client privilege because of the presence of attorneys during the exchange with his father, Schiff said.