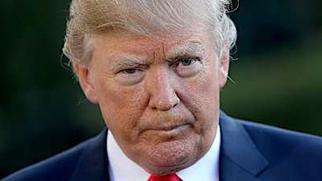 President Trump's daily intelligence updates are reportedly set up oftentimes in an effort not to displease him.
The Washington Post reported that U.S. officials would not say whether recent information on Russia had been included in the president's daily briefing.
A former senior intelligence official familiar with the matter said intelligence about Russia that could upset Trump is sometimes just included in the written assessment. The order in which the information is presented could also be altered to try not to upset Trump, according to the Post.
"If you talk about Russia, meddling, interference — that takes the PDB off the rails," a second former senior U.S. intelligence official said, referring to the president's daily brief.
A spokesman for the Office of the Director of National Intelligence said the briefings are "written by senior-level, career intelligence officers."
TVNL Comment:  If this doesn't frighten you, you're not awake.  The moron in the WH is being treated like the child he is.  No one should cater to the delicate ego of the President of the United States.  He has to be dethroned.