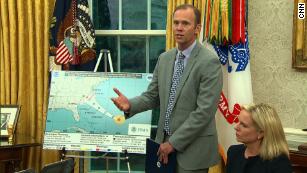 As a potentially catastrophic hurricane bears down on the East Coast of the US, the shifting of $10 million from FEMA's operating budget to fund immigration detention and deportations is drawing condemnation from Democrats.
But that's a drop in the bucket.
The Trump administration this summer quietly redirected $200 million from all over the Department of Homeland Security to Immigrations and Customs Enforcement, despite repeated congressional warnings of ICE's "lack of fiscal discipline" and "unsustainable" spending.
The Department of Homeland Security asked for the money, according to a
document
made public this week by Oregon Sen. Jeff Merkley. Of the $200 million, the document says $93 million will go to immigrant detention, a 3% budget increase that will fund capacity for an additional 2,300 detainees; and $107 million for "transportation and removal," or deportations, a 29% budget increase.