Bush Administration's Lies About Iraq: Compendium of the relentless lies by the Bush/PNAC administration related to the invasion of Iraq, as sold to America by the corporate media.
Cartoon by K. Bendib, all rights reserved
Now you can donate and receive the DVD:
UNCOVERED: The Whole Truth About the Iraq War
Please help to support TvNewsLies.org by getting this DVD here.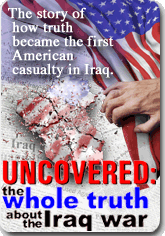 I believe President George W. Bush's decision to initiate war in Iraq will be the greatest and most costly blunder in American history - Republican Rep. Paul Findley

"It is reported that more than half of Americans believe that Saddam Hussein is responsible for the terrorist attacks of 9/11. This means that the U.S. media have utterly, spectacularly, shamefully and pathetically failed."

"Criticism in time of war is essential to the maintenance of any kind of democratic government" Senator Robert Taft 1941

The Most Heinous Crime of the New Millennium - "We have satellite photos that indicate that banned materials have recently been moved from a number of Iraqi weapons of mass destruction facilities. There can be no doubt that Saddam Hussein has biological weapons and the capability to rapidly produce more, many more." - Colin Powell on February 6, speaking to the UN Security Council, demanding their support for the invasion of Iraq

"There must have been two wars in Iraq. There was the war I saw and wrote about as a print journalist embedded with a tank company of the Army's 3rd Infantry Division (Mechanized). Then there was the war that many Americans saw, or wanted to see, on TV." - Ron Martz

The story of Jessica Lynch is the tale of how a modern war icon is made, and perhaps how easily officials and journalists with different agendas accepted contradictory, self-serving versions of what happened to her.

The public was told that Saddam posed an imminent threat. If that claim was fraudulent, the selling of the war is arguably the worst scandal in American political history — worse than Watergate, worse than Iran-contra. Indeed, the idea that we were deceived into war makes many commentators so uncomfortable that they refuse to admit the possibility.
What is war? - (A must see. Turn speakers on first if you have them.)
Warnings on WMD 'Fabricator' Were Ignored, Ex-CIA Aide Says

- In late January 2003, as Secretary of State Colin Powell prepared to argue the Bush administration's case against Iraq at the United Nations, veteran CIA officer Tyler Drumheller sat down with a classified draft of Powell's speech to look for errors. He found a whopper: a claim about mobile biological labs built by Iraq for germ warfare. - Drumheller instantly recognized the source, an Iraqi defector suspected of being mentally unstable and a liar. The CIA officer took his pen, he recounted in an interview, and crossed out the whole paragraph. - A few days later, the lines were back in the speech. Powell stood before the U.N. Security Council on Feb. 5 and said: "We have first-hand descriptions of biological weapons factories on wheels and on rails."

Mr. PRESIDENT WE DO NOT BELIEVE YOU

- The reality is that George W. Bush, Bill Clinton and George Bush, the father, took parts in the destruction of Iraq; they are responsible and that history will condemn them for destroying the cradle of civilization.

White House knew there were no WMD CIA

- The CIA had evidence Iraq possessed no weapons of mass destruction six months before the 2003 US-led invasion but was ignored by a White House intent on ousting Saddam Hussein, a former senior CIA official said, according to CBS. - "The (White House) group that was dealing with preparation for the Iraq war came back and said they were no longer interested." - "We said: 'Well, what about the intel?' And they said: 'Well, this isn't about intel anymore. This is about regime change'," added Drumheller, whose CIA operation was assigned the task of debriefing the Iraqi official. - "The policy was set. The war in Iraq was coming and

they were looking for intelligence to fit into the policy

," the former CIA agent told CBS.

General Appeals for More Troops Were Denied

- Adding to criticism of the Bush administration's prosecution of the war in Iraq, a retired senior general who commanded an infantry division in the conflict said Monday that requests by commanders for more soldiers were repeatedly turned down. - "Many of us routinely asked for more troops," retired Maj. Gen. John R.S. Batiste said, contradicting statements by President Bush and his senior aides that the administration had given the military all the resources it had asked for. -

TVNL Comment: "Adding to the criticism?" How about "exposing the relentless lies of the Bush administration; most notably those of George W. Bush and Donald Rumsfeld!

Audit Finds U.S. Hid Cost of Iraq Projects

- The State Department agency in charge of $1.4 billion in reconstruction money in Iraq used an accounting shell game to hide ballooning cost overruns on its projects there and knowingly withheld information on schedule delays from Congress, a federal audit released late Friday has found. -

TVNL COMMENT: The lies never stop and nobody is being held accountable!

The Snake Oil Merchants Who Sold Us A War!!! - TvNewsLIES Looks at The White House Iraq Group (WHIG)

WHAT DID APRIL SAY?

- The Iraqis did not know at that time that the CIA and Kuwait (in collaboration) had already instituted measures to further undermine the Iraqi economy. - After listening, Glaspie then assured Saddam that the U.S. was on Iraq's side and that the U.S. was in sync with the desires of Iraq to rebuild. She explained: - I think I understand this. I have lived here for years. I admire your extraordinary efforts to rebuild your country. I know you need funds. We understand that, and our opinion is that you should have the opportunity to rebuild your country. But

we have no opinion on Arab-Arab conflicts, like your border dispute with Kuwait.

Assumptive and Malicious Disinformation

- That Saddam was a ruthless ruler is hardly debatable. - He was just as dictatorial as all his neighbors and many others, but perhaps more ruthless in suppressing active opposition. However, he was also a true revolutionary and

achieved much that is positive for Iraq

, and provided support to revolutionary movements in the Arab world and Africa. He reclaimed his country's resources, embarked on serious development, and became an obstacle to imperial designs on the region. This is the basic reason why he was singled out for demonization by imperialism as well as the oil booty that lay in wait there. And he could not be bought.

AFTER LISTENING TO THE BUSH BLATHER A LESSONS FOR THE MEDIA - Many were expecting George Bush to accept responsibility for the events in Iraq tonight. We at TVNL are waiting for the media to accept responsibility as well.

TvNewsLies.org's Suggested Reading
THIS IS REALITY
(Turn your speakers on before clicking)