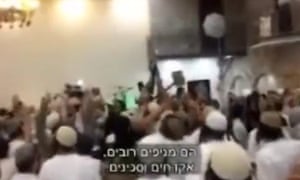 Senior Israeli politicians and religious figures have condemned an incendiary video showing a hall packed full of Jewish extremist teenagers cheering the death of a Palestinian toddler murdered in an anti-Palestinian hate crime earlier this year.

The video – which shows the teenagers dancing with guns and firebombs and stabbing a picture of Ali Dawabshe, who died with his parents in an arson attack on their home this summer – was filmed at a wedding three weeks ago and obtained by an Israeli television channel. The Israeli prime minister, Binyamin Netanyahu, immediately condemned its "shocking images", which he said displayed "the real face of a group that poses danger to Israeli society and security".
The emergence of the video follows accusations by far-right Israelis that three Jewish extremists arrested by Israeli security service the Shin Bet for the murder of Ali Dawabshe and his family had been tortured.

It dramatises the deep and growing problems that Israel faces with a small and violent extremist sector that has perpetrated so-called "price tag" attacks on Palestinians, members of the Israeli security forces and targeted Christian churches.

The video – broadcast by Channel 10 news on Wednesday night – was filmed at the wedding of a couple described only as being "very well known in the radical right" who are reportedly friends of those suspected of the Dawabshe murders.

The Dawabshe arson murders, and delays in solving the case have contributed to the outbreak of the worst Palestinian street violence in years.