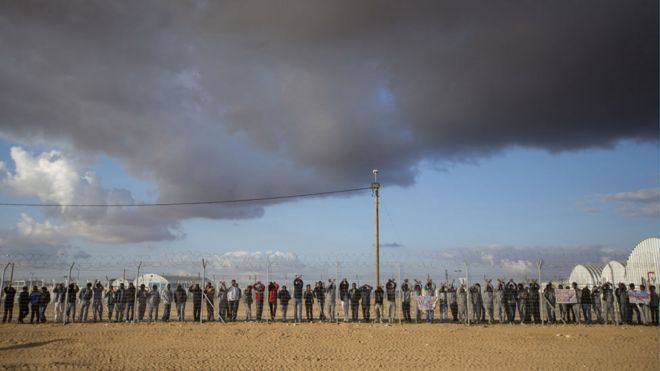 For nearly a year Israel has been offering African migrants cash and the chance to go and live in what is supposed to be a safe haven in a third country - but the BBC has spoken to two men who say that they were abandoned as soon as they got off the plane. One was immediately trafficked, the other left to fend for himself without papers.

Adam was 18 when he arrived in Israel in 2011. Attackers had burned down his home in Darfur at the height of the genocide, and he had spent his teenage years in a UN refugee camp in another part of Sudan. With no prospects in the camp and no sign of an end to the conflict in Darfur, he made his way north through Egypt and the lawless Sinai peninsula to Israel.
But Israel - which has approved fewer than 1% of asylum applications since it signed the UN Refugee Convention six decades ago - has not offered asylum to a single person from Sudan. It turned down Adam's application, and last October, when he went to renew the temporary permit allowing him to stay in the country, he was summoned to a detention centre known as Holot, deep in the Negev desert.

This was no surprise for Adam. As most Sudanese and Eritreans in Israel know, it's just a matter of time before they get the call to Holot.